Who we are
Arif and Associates, founded by award-winning architect Er. Arif in 1998, has evolved into a dynamic architectural firm with over two decades of experience, a passionate team of 40+ professionals, and a portfolio of 1 million+ sq.ft of diverse projects. We stand as a symbol of architectural excellence and innovative design across South India, the Middle East, and expanding to the northern regions.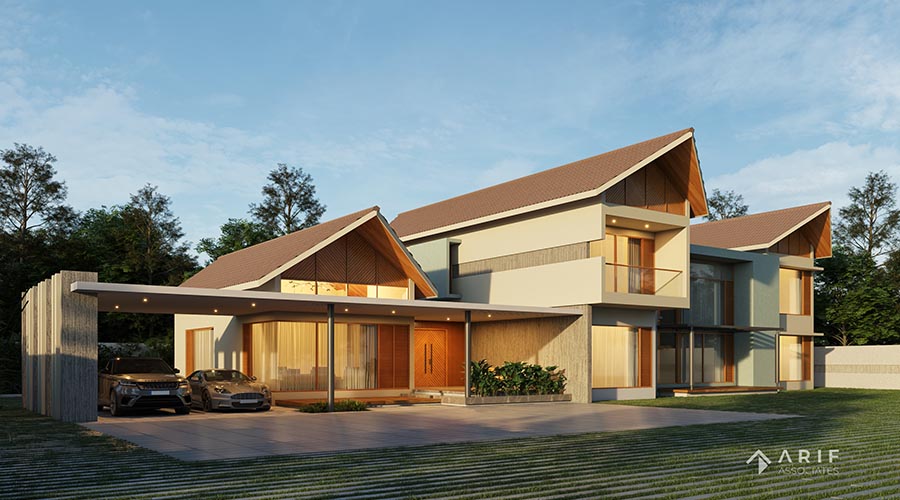 Crafting Dreams with Creative Architectural Expertise
Arif and associates established in the year of 1998 by award winning architectural consultant in Calicut Er.Arif, with few employees and selected works in the heart of Calicut city with an ambitious approach towards the project received. From the beginning of the firm's establishment, Er.Arif, always believed that a good project could be built only with a great understanding of the client's emotions towards that project. The office now handles the project from a scale of 500 sq.ft with solid and simple attitude, at present the firm under the architectural consultant Arif Mohammed exceeded over 1 million sq.ft of dynamic and strong subjects with various typologies integrated with the exquisite landscape.
At the beginning of 2000 with decent design sense and better services, the credits about the firm's work started spreading all over the zone drastically and helped a lot to collaborate and interact with more sophisticated clients to deliver various good projects. As an architectural consultant practices passion towards architecture always balanced with prominent functionality, it helped the firm to collaborate with corporates like VKC Group, Prisonic, BISMI Group, Hilite builders and Govt sectors like Konkan railways and various institutions.
Over 2 decades of handling various typologies like the living, hospitality, commercial and urban sectors, now the firm with a team of 40 + members including famous architects, engineers and project managers led by the architectural consultant Arif Mohammed settled in a larger working studio in the core of the city. Arif and associates proudly stand up with mastery in total solutions in handling an architectural project.
Now with a drastic growth in the architecture and construction sector, the team handles over 150 projects at a time all over south India, middle east and introducing projects soon in the northern side of India as well. Arif Mohammed,leading architectural consultant strongly believes the people who supported to achieve more dynamic details to achieve substantial products. Delivering the architectural quality for the projects they do helps the firm to raise the growth level in every second of the productive time.
Services
Interior
Our Interior Design service is a harmonious blend of aesthetics and functionality. We transform spaces into inviting, comfortable, and stylish environments that reflect our clients' unique tastes and needs. Whether it's a residential project, a commercial space, or a hospitality venture, we pay meticulous attention to every detail to create interior designs that leave a lasting impression.
Construction
At Arif and Associates, our Construction service embodies precision and craftsmanship. With a commitment to quality and on-time delivery, we bring architectural visions to life. Our experienced team of builders and project managers ensures that every construction project, from small-scale developments to large complexes, is executed flawlessly, adhering to the highest industry standards.
Architecture
Architecture is the heart and soul of our firm. With a rich history of designing and executing diverse architectural projects, we take pride in shaping spaces that inspire and endure. Our architectural expertise spans residential, commercial, and urban planning projects, with a focus on creating sustainable, functional, and aesthetically pleasing structures that stand the test of time.
Visualization
In an age where visual communication is paramount, our Visualization service brings concepts to life through cutting-edge technology. We provide 3D rendering, virtual tours, and architectural visualization services that enable clients to envision their projects in exquisite detail. This invaluable tool helps in making informed decisions, facilitating clear communication, and ensuring that every project is aligned with the client's vision.